Delhi News Highlights: Rains continued to lash Delhi for the third consecutive day on Saturday causing traffic snarls at some places in the morning, even as the minimum temperature settled a notch above the normal for the season. The city received 15 mm of rainfall from 8.30 AM on Friday to 8.30 AM Saturday, according to data shared by the India Meteorological Department (IMD). Incessant rains had pounded the national capital on Thursday causing waterlogging across a wide swathe of the city, leading to crawling of traffic.
Meanwhile, a fire broke out in a shoe factory in the Narela Industrial area this morning, the Delhi Fire Service said. A call had been received around 8.34 a.m regarding the fire, which had broken out the MSC mall. Visuals from the site show thick smoke obscuring the front of the burning building, while DFS personnel extend hoses within. The DFS said that ten fire tenders had been rushed to the spot, with no injuries or deaths reported so far. According to DFS chief Atul Garg, " The fire has been brought under control. The cramped conditions in the area make it hard to navigate, although it is not as bad as Old Delhi. The area also does not have much water supply."
The District administration of the Gautam Buddh Nagar district declared Thursday that school for classes I to VIII will remain shut on Friday because of the heavy rainfall. In Gurgaon, meanwhile, all private education institutions have been advised to remain shut. While no advisory was issued, Gurgaon bore the brunt of water logging in the Delhi-NCR region. Several parts of the NH 48, especially the low lying areas were waterlogged.


A Delhi court Saturday said it was satisfied with the explanation that businessman Robert Vadra, husband of Congress leader Priyanka Gandhi, did not intentionally omit details pertaining to his medical emergency stop in Dubai, and issued a warning to be careful in the future. On September 20, the court refused to accept an explanation offered by Vadra — that he stayed in Dubai for a medical emergency in August this year — and issued a showcause notice asking him why his fixed deposit (FD) submitted with the court should not be forfeited. Read More
Vice President Jagdeep Dhankhar Saturday was at the inauguration of the Harijan Sevak Sangh's 'Sadbhavana Sammelan' which is commemorating the organisation's 90th anniversary. The Union government's sabka saath, sabka vikas slogan is Gandhian thought, Dhankhar said. "What the government says, sabka saath sabka vikas, sabka vishwas, sabka prayaas is Gandhian thought. This is not political, this is national. This is rising above politics," he said.


Mahatma Gandhi's thinking is now "ground reality", Dhankhar said.
"He (Mahatma Gandhi) was always open to the other point of view. Today, there are some sections who believe that only their thinking is correct…this is a very dangerous trend," he said. (ENS)
Commuters on NH8 from Delhi/Gurgaon to Manesar, Rewari and Jaipur side are requested to follow alternate routes like Golf course extension, Vatika chowk and SPR. Similarly inner city commuters may follow Rajiv Chowk to Vatika Chowk and SPR route. This way will be free from water logging and the commuters will be able to avoid slowdown of traffic at Narsingpur water overflow/logging on Highway and service lanes.
With rain continuing for third consecutive day, water logging reported in several areas of the city in Gurgaon. The service lane at Narsinghpur on Gurgaon- Delhi expressway is submerged. Five pumps deployed to drain water at the stretch. (ENS)
A portion of a parapet above the first floor of the operation theatre building at the Hindu Rao Hospital, run by the Municipal Corporation of Delhi (MCD), collapsed on Friday, causing minor damages to cars and motorbikes parked below, civic authorities said.
"A portion of a parapet above the first floor of the Hindu Rao Hospital collapsed today," a senior civic official said.
While no injury was reported, doctors working with the hospital complained that similar incidents have happened on the premises previously too. "The whole building is crumbling and in dilapidated condition, but nobody listens to us," said a doctor on the condition of anonymity. (Read more)
Illegally built house of Gangster Sube Singh Gujjar demolished by the Municipal Corporation in Manesar
#WATCH | Gurugram, Haryana: Illegally built house of Gangster Sube Singh Gujjar demolished by the Municipal Corporation in Manesar pic.twitter.com/NE1YTxk4rT

Ahead of the festive season, the Noida police have held a meeting with religious leaders along with eminent citizens and asked them to report any anti-social activity or mischievous post on social media immediately. They have also been told not to hold any event without permission in the coming days.
The meeting was held on Friday on the instructions of Police Commissioner Alok Singh, according to an official statement. During the meeting, Additional Deputy Commissioner of Police (Noida) Ashutosh Dwivedi exhorted the religious leaders and citizens to support the police in maintenance of law and order.
"He appealed to them to avoid any kind of rumours. The religious leaders were also asked to avoid any kind of event without permission and use of loudspeakers in compliance with the directions of the Supreme Court," the police said. (PTI)
Ahead of the festive season, the Noida police have held a meeting with religious leaders along with eminent citizens and asked them to report any anti-social activity or mischievous post on social media immediately. They have also been told not to hold any event without permission in the coming days.
The meeting was held on Friday on the instructions of Police Commissioner Alok Singh, according to an official statement. During the meeting, Additional Deputy Commissioner of Police (Noida) Ashutosh Dwivedi exhorted the religious leaders and citizens to support the police in maintenance of law and order.
"He appealed to them to avoid any kind of rumours. The religious leaders were also asked to avoid any kind of event without permission and use of loudspeakers in compliance with the directions of the Supreme Court," the police said. (PTI)
Delhiites could soon enjoy high-speed 5G network connectivity as work has begun to assess how infrastructure can be upgraded – from departments and buildings where smaller 'cells' sites can be put up to street furniture where smaller 'cells' can be installed to bolster the network.
Small cell sites are basically meant to enhance the network in areas with high density of mobile phones, such as the crowded Chandni Chowk market or a stadium that accommodates thousands or a Metro station like Rajiv Chowk.
Major agencies and departments such as the Delhi Police, Delhi Metro Rail Corporation (DMRC) and other departments which currently use 4G network will completely shift to 5G network once the project is rolled out. (Read more)
With no action on his police complaint, a food delivery executive who was allegedly assaulted by an Army Major at a Gurgaon society last year took the battle to court — and has now managed to get an FIR registered.
On Wednesday, police booked the accused for allegedly assaulting 27-year-old Sonu at Bestech Park View Ananda society on September 9 last year, after the district court directed the SHO of Kherki Daula police station to do so. The complainant filed an application in court in June 2022. (Read more)
In the wake of recent rainfall, the Delhi Traffic Police has received reports of waterlogging, trees falling, and potholes across the national capital, with motorcycle staff and cranes being deployed to regulate traffic and clear routes. Other civic agencies, too, are contributing manpower and resources. As of 6 pm on Friday, the Traffic Police reported the following stretches that commuters have been advised to avoid. Click here to see list.
Two weather systems coinciding brought heavy rainfall to Delhi-NCR at the fag end of the monsoon season, after what was a mostly dry August and September. The heavy rainfall spell that began on Thursday and extended into Friday was only the second such heavy spell for the southwest monsoon season in Delhi so far. The first such heavy spell was recorded when the monsoon hit Delhi on June 30. Read More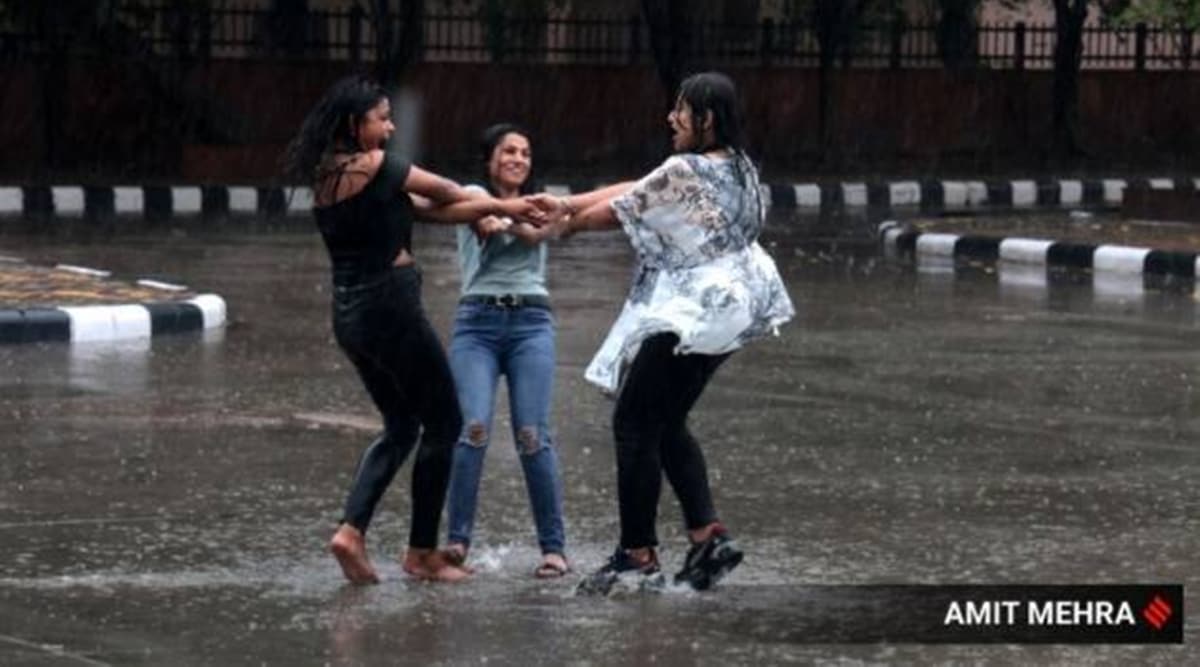 130 mm of rain brought the Millennium City to its knees, with water inundating several roads and the expressway, throwing traffic into disarray.
Behind the mayhem, experts say, is a drainage infrastructure unable to withstand such a high intensity of rainfall. Gurgaon, which is located at foothills of Aravallis, earlier had hundreds of water bodies, lakes and bunds (embankments) in low lying parts, which acted as natural drainage columns by storing water and preventing flooding. Over the years, urbanisation and concretisation has taken place either on top or in the route of natural drains, blocking the natural course of water. According to a report of district administration from 2018, Gurgaon had over 640 water bodies in 1956, which reduced to 251 by 2018. Read More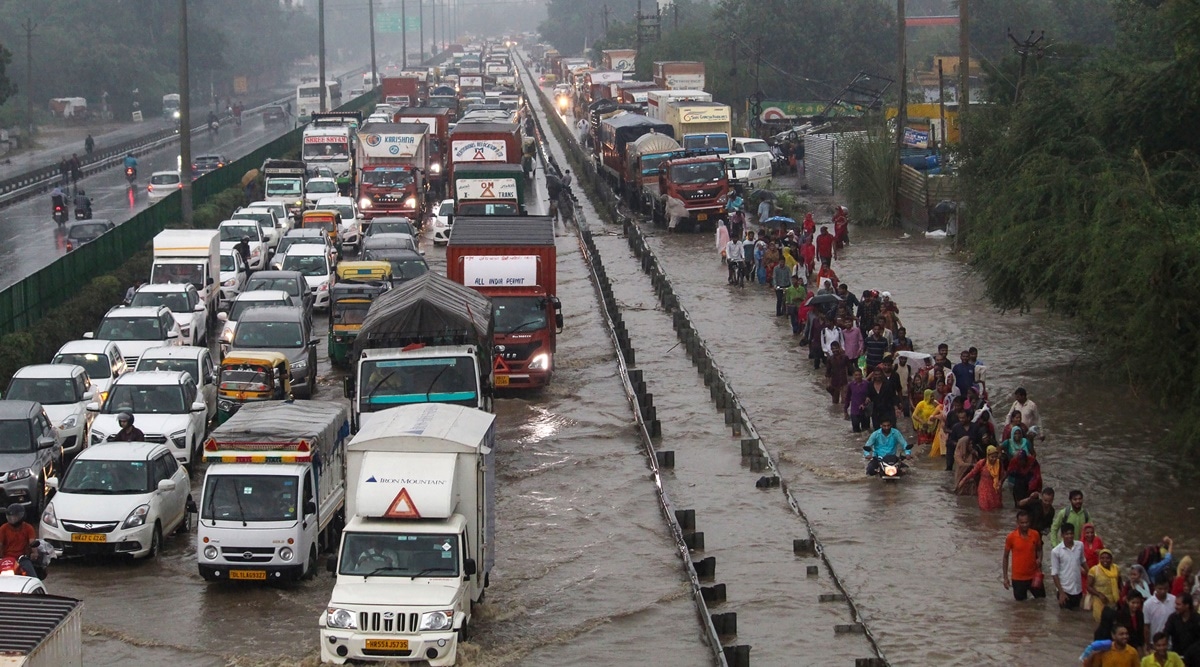 The Appointments Committee of the Cabinet has approved the name of Dr M Srinivas as the next Director of the All India Institute of Medical Science (AIIMS). He is currently the Dean of ESIC, Medical College & Hospital, Sanathnagar, Hyderabad.
The Delhi Disaster Management Authority (DDMA) has decided to stop levying the Rs 500 fine for not wearing masks in public places from October 1, given that Covid infections in the national capital have declined steadily.
"Covid cases have dropped drastically in Delhi and the situation is better than earlier. Keeping all this in view, it was decided to do away with the mask fine. However, it doesn't mean the people need not follow rules; they should continue to wear masks. This will come into force once an official order comes," an official said. According to the official, the decision was taken at a Covid review meeting attended by Lieutenant Governor Vinai Kumar Saxena, Chief Minister Arvind Kejriwal and senior officials on Thursday.
Delhi Police Commissioner Sanjay Arora has asked six DCPs in the city to give a presentation on Friday on strategies to prevent communal riots in the national Capital.
On Thursday, a mock drill was conducted by one of the DCPs in North West district's Jahangirpuri area where communal clashes broke out on April 16 this year following a Shobha Yatra organised to mark Hanuman Jayanti. It was the first major communal flare-up in Delhi since the February 2020 riots in North East Delhi, which left 53 people dead and many more injured. (Read more)
Data collected as part of recent drone surveys conducted at the Ghazipur and Bhalswa landfill sites have found that the actual area occupied by the landfills is larger than what the Municipal Corporation of Delhi (MCD) had earlier reported.
The drone survey records from June this year were presented as part of reports submitted before the National Green Tribunal (NGT). According to the Ghazipur landfill drone survey report, the actual site area is around 75 acres. "As per the records/reports available and discussions with MCD officials, the site area of SLF (sanitary landfill) Ghazipur is reported as 70 acres," the report noted. The site area of the landfill at Bhalswa was found to be 78.5 acres during the survey, while the MCD had reported it to be 70 acres, according to the survey report. (Read more)
Haryana Congress leader Bhupinder Hooda on Friday met Congress interim president Sonia Gandhi in Delhi. In a statement to news agency ANI, he said. "In our meeting today, we spoke about the party and how to strengthen it."
"She said that she has a neutral stand regarding the congress president election," Hooda added.
Haryana Congress leader Bhupinder Hooda to meet Congress interim president Sonia Gandhi in Delhi, shortly
(file photo) pic.twitter.com/6IGEIG96f1