News
BHPian pqr recently shared this with other enthusiasts.
FY 2021-22 Indian EV market analysis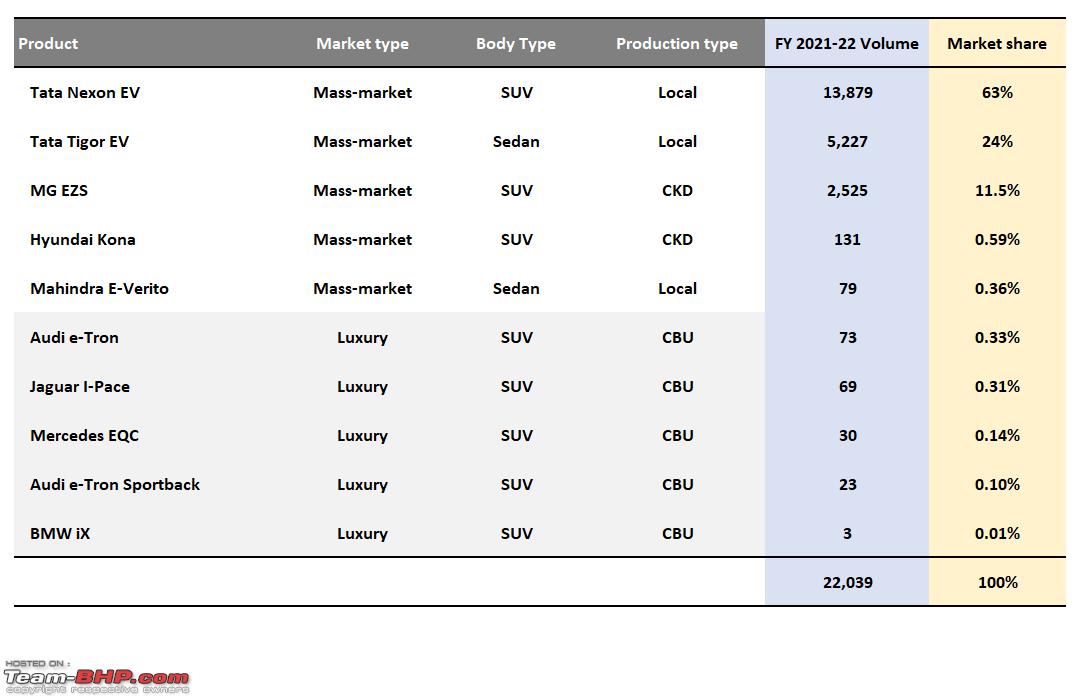 Market
Manufacturer
Production type
GST support by the Government
Data source: SIAM library and Luxury car sales analysis.


Here's what BHPian ninjatalli had to say on the matter:
Excellent start to reports/analytics on the EV market of India. Looking forward to more such reports/details from all in the future.
The language in the below sections needs to be corrected – similar to the first bullet point, the % figures quoted cover only EV sales in 2021-22 and not the total EV market. The relevant bullet points (e.g. the ones in bold) or the heading need to be corrected accordingly.
If we look at the total Indian EV market, I'm sure Mahindra (with its huge head start with its eVerito product) would have a more larger share; and so will others too.
Here's what BHPian drift87 had to say on the matter:
Also, note that out of the total volume of EVs in the Indian market, three-wheeler constitutes around 65% and 25% are held by the two-wheeler category. The remaining 5% is a mix of everything else including cars, this segment is just waiting to explode.
Here's what BHPian rd18 had to say on the matter:
Tata is certainly in an advantageous position since "the early bird catches the worm".
Credit to them for changing the mindset of people that EVs can run powerful cars like Nexon. It was their best calling car and an SUV which attracted customers.
Previous EV launches like bikes and cars were very basic. Never a full-fledged heavy SUV was seen running on EV.
With Nexon EV Max and Tigor EV, they keep their range as #NewForvever.
So many have upgraded their Nexon EV to Nexon EV Max after launch.
And I didn't know all abbreviations, so this is what they mean:
Source
Check out BHPian comments for more insights and information.
Keep yourself tuned in to the Indian automotive scene via Twitter, Youtube or RSS feeds.