Get in the KNOW
on LA Startups & Tech
The first Lime electric scooters hit the streets of Los Angeles in June 2018, some nine months after rival e-scooter startup Bird first took flight in Santa Monica. In the years since, Lime has battled Bird and a wave of other micromobility operators for market dominance—seeking to transform the urban transportation landscape while facing losses, regulatory backlash and even destructive anti-scooter sentiment.
Now, Lime is upping the ante in the great e-scooter wars once again by bringing its latest e-scooter model—the Lime Gen4—to the streets of Los Angeles, with the goal of replacing all 7,000-plus vehicles in its L.A. fleet by this summer. Lime has already rolled out the Gen4 globally in markets from Denver to London.
The San Francisco-based company told dot.LA that it designed the Gen4 to be more eco- and user-friendly—with a swappable battery, bigger wheels, a lower center of gravity and swept-back handlebars akin to a bicycle.
"As of [the week of April 17], you'll start to see them in Hollywood, West Hollywood and in some of the Hills area," said Alyssa Edelen, Lime's general manager for the southwest region.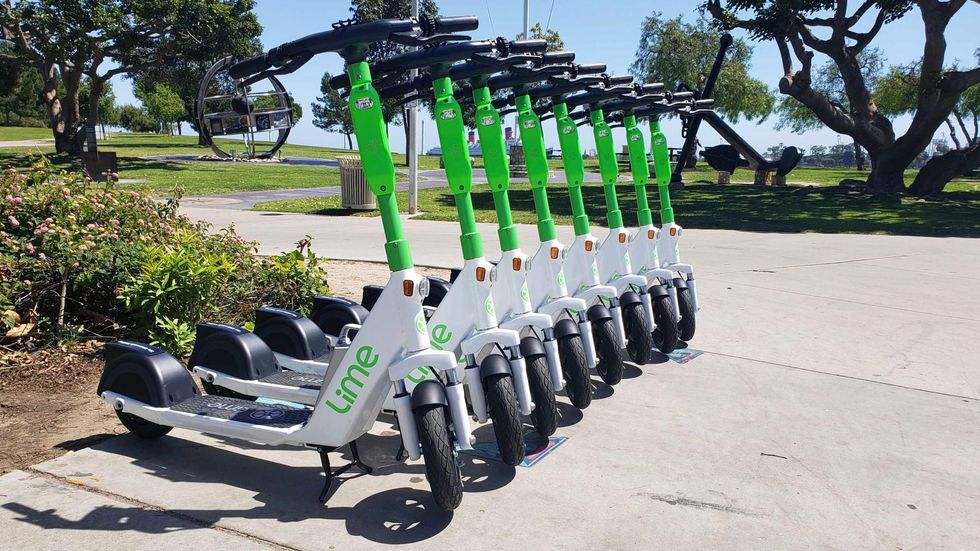 Lime's new Gen4 e-scooter features a swappable battery, bigger wheels, a lower center of gravity and swept-back handlebars.Image courtesy of Lime
Originally a bike-sharing company, Lime launched its e-scooter fleet in 2017 with the Segway Ninebot, a popular choice for operators at the time. However, early e-scooters were not built for the harsh conditions of shared use. One 2018 study by Quartz of Bird scooters in Louisville, Ky., found that the vehicles lasted less than 29 days on average before breaking down or falling prey to vandalism or theft.
The next Lime generation to hit L.A. streets in 2018 was the Gen2.5, a hardier model built to last 18-to-24 months. Then last year, the company swapped out the Gen2.5 for Okai scooters inherited through its 2020 acquisition of Uber's micromobility business, Jump. Instead of recycling the Jump scooters, Lime wanted to deploy them in select markets.
Now, Lime says that its latest model—designed and manufactured completely in-house—is built to last for up to five years. In comparison, competitor Bird's latest model, the Bird Three, has an estimated shelf life of two years.
Lime didn't share details on how much the company invested in R&D for the Gen4. The scooter was initially developed by Jump, with Lime continuing the work after acquiring the former Uber subsidiary.
The lifespan of an e-scooter doesn't only affect a company's bottom line—it also has a significant impact on sustainability.
In a 2019 study conducted at North Carolina State University, researchers calculated the life-cycle emissions of shared e-scooters. The study found that although riding one was better for the environment than driving a car, it was not as green as riding an electric bike or even taking a gasoline-powered bus.
And that's not just because of the energy required to charge e-scooters, which represented only 5% of their total emissions. According to the study, most of the greenhouse gas emissions from shared micromobility comes from manufacturing a device's parts, as well as the logistics of collecting and charging the vehicles. In other words: the longer a scooter's lifespan and the easier it is to charge it, the lower its carbon footprint will be
To address the environmental impact of charging scooters and returning them to the streets, Lime and other micromobility operators are now embracing models that feature swappable batteries. According to Lime, the Gen4's swappable battery makes the charging process more streamlined and energy-efficient; vehicles no longer need to be transported to a warehouse for charging. Lime's new Gen4 e-bike model is also using the same swappable battery.
While some competitors, like Bird and Superpedestrian, have called into question the environmental benefits of swappable batteries, the industry at large seems to be trending in their favor. Veo CEO Candice Xie told dot.LA earlier this year that the micromobility firm is using its Cosmo seated scooter to tow trailers filled with batteries that are swapped into its vehicles in Santa Monica.
"We don't need to collect all the devices back to the warehouse to charge and then roll [them] out again," Xie said. "All we need to do is swap the battery on site, and that increases our efficiency and reduces our operations by 40-to-50% compared to other vendors."
West Hollywood-based Wheels is testing out a similar strategy in Austin, Texas, where it's using its own electric seated scooter to swap batteries and service its vehicles, with plans to implement this method in L.A. Meanwhile, a Lyft spokesperson said many of the company's maintenance teams are using electric golf carts and e-cargo tricycles to swap batteries on its own micromobility vehicles.
Lime has yet to use electric vehicles in L.A. for charging and maintenance operations, but said it's in the process of acquiring and implementing them.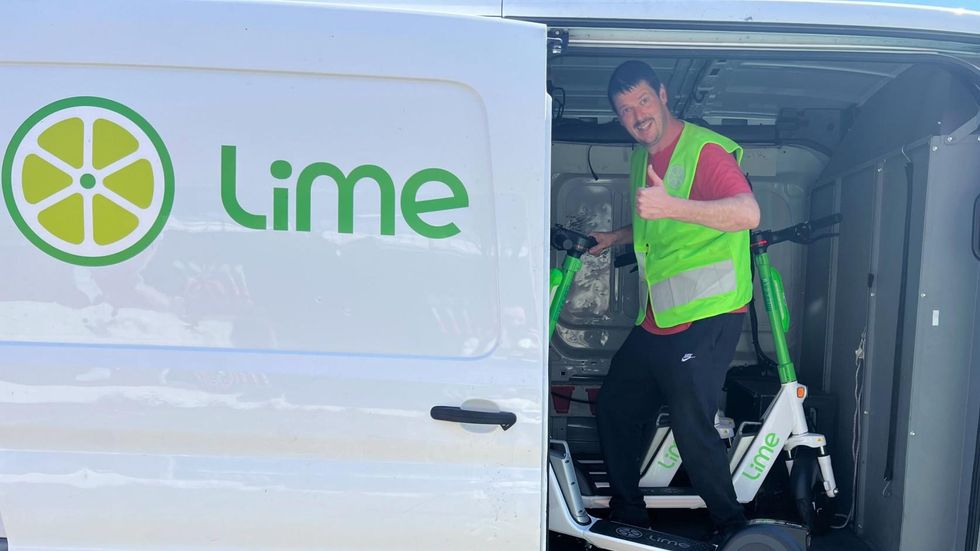 Lime says the Gen4's swappable battery makes the process of recharging its e-scooters more streamlined and energy-efficient.Image courtesy of Lime
Lime's more eco-friendly approach comes as Angelenos are increasingly turning to shared transit options to avoid record-high gas prices. As of mid-April, Lime had seen its ridership in L.A. grow "about 35%" in the preceding two-to-three weeks, Edelen said. The company's Lime Access equity program, which provides discounted rides to underserved Angelenos, logged 12,000 rides in March, the highest number since its inception.
But despite the lofty environmental goals of micromobility companies—Lime is aiming to have a zero-emissions operations fleet by 2030—some experts note that their impact on the greater transportation sector is limited.
In a study released in February, researchers at Carnegie Mellon University examined the environmental impact of replacing short car trips with micromobility vehicles during peak travel hours. For context, in the U.S., almost 50% of car rides are three miles or less—a sweet spot for bicycles, e-bikes and scooters. Using the city of Seattle as a model and factoring in weather conditions, trip type and user demographics, the study found that only 18% of short car trips could be replaced, leading to just a 2% reduction in overall emissions.
Carnegie Mellon assistant professor Corey Harper, a co-author of the study, noted that most carbon emissions come from long-distance travel. "We have a lot more work to do if you really want to reduce emissions in our transportation sector," Harper told dot.LA. "Because even if we were able to fulfill every single trip that could be done by bike or scooter, 98% of emissions would still be there."
The study suggests that e-scooters have the most impact when combined with public transit as a first- and last-mile option. Choosing to take an e-scooter instead of driving a car has other benefits as well, such as reducing traffic congestion. Ultimately, Harper believes that for people to choose more eco-friendly transportation options, companies and cities have to make those modes more appealing to riders.
Lime is gambling that its redesigned e-scooter—with its bigger wheels, swept-back handlebars and improved suspension—will attract even more riders, and not just because it's the more eco-friendly option.
In a promising sign, Edelen said that L.A. users are riding the Gen4 longer and rating it higher compared to the previous model.
"Ridership is up compared to last year and previous years," she noted. "Comparing this model to our Okai, we are seeing close to double the utilization."
Tel Aviv-based Electreon specializes in wireless induction charging, similar to the technology that allows you to charge your cell phone on a wireless mat or dock without plugging it in. By embedding a system of coiled wires into the pavement, Electreon plans to turn the road itself into a charging station for vehicles—one that can be used even while cars are moving.
Founded in 2013, the company has already proven its technology can work via pilot programs in Sweden, Germany and Italy—as well as its homeland of Israel, where it's a publicly traded company on the Tel Aviv Stock Exchange. But on Tuesday, Electreon announced a partnership with Michigan public authorities, as well as private stakeholders like Ford Motor Company, to install a one-mile-long stretch of electrified road in Detroit—the first time such a system would be used in public roads in the U.S. The system is expected to be operational by next year.
Electreon, which opened its U.S. headquarters in Los Angeles last month, is initially targeting fleet vehicles like taxis, buses and drayage trucks for its technology, but plans to eventually expand into the consumer EV market as well. Electric road systems would be especially attractive to fleet vehicles for a number of reasons, the most obvious being that they stop frequently. Time spent idling, especially in predictable locations, means it's easier to know where to install electrified roads and make them cost-effective.
Stefan Tongur, Electreon's L.A.-based vice president of business development, says the company's induction charging technology will probably charge slower than the traditional plug-in station model. But if the pavement under every bus station was electrified, he told dot.LA, a small amount of charge would be added to the vehicle at every stop—meaning the bus would need to take fewer, if any, breaks to recharge its battery.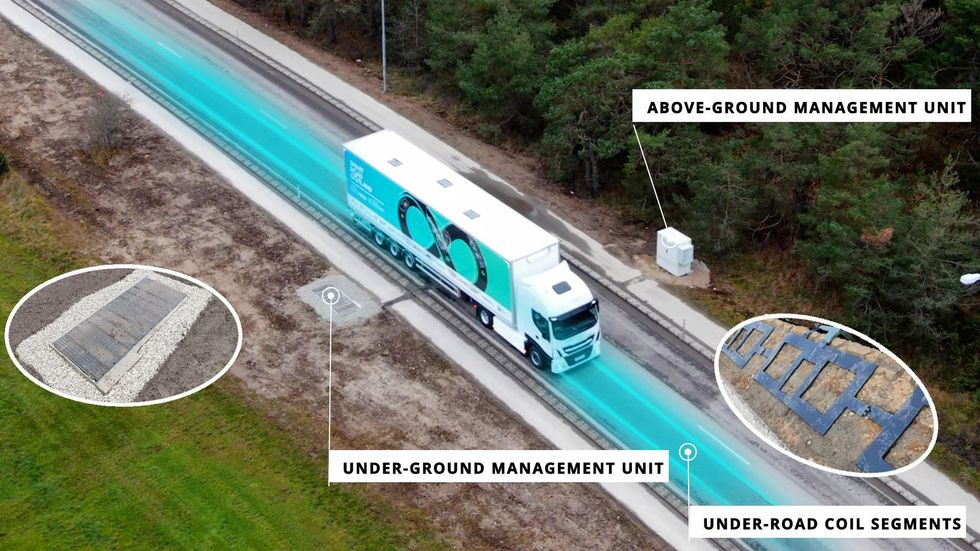 Image courtesy of Electreon
It's easy to imagine similar use cases at ports, rail yards or airport taxi lanes, all of which could spell significant savings for companies that lose time and money when their electric fleet vehicles are plugged in and recharging. Many of these areas also fall under the purview of the private sector, which would make uptake and implementation easier, according to Tongur. He said Electreon is already eyeing a move into such spaces.
Electreon aims to have its wireless charging technology installed on public roads around the U.S. within "a couple of years," Tongur added. While Detroit will host the pilot program, Los Angeles and New York will be the next targets.
"L.A. is obvious, right? It's the Mecca of EVs," he said. "You have air quality issues here; you have the port of L.A. and Long Beach; you have so much traffic. Moving to electrification is, I would say, a must."
The goal of installing wireless charging for moving vehicles is "very courageous," said Mehrdad Kazerani, a professor of electrical and computer engineering at the University of Waterloo in Ontario, Canada. Kazerani noted that researchers at the university had developed a similar concept for the sprawling Trans-Canada Highway. "Of course, we did not pursue this idea, but it seems Electreon has made good progress along this line," he said.
Kazerani added that wireless charging technology may also allow the EVs of the future to use considerably smaller batteries, which would make the cars lighter, more energy-efficient and less expensive. Smaller batteries would also mean less mining for battery materials and less waste when a battery reaches the end of its life.
"This is kind of an invitation to the U.S. market: to policymakers, state agencies, fleet owners and original equipment manufacturers," Tongur said. "This is an opportunity to do things together—join us on this path and journey."
David Shultz is a freelance writer who lives in Santa Barbara, California. His writing has appeared in The Atlantic, Outside and Nautilus, among other publications.
In Los Angeles—like the startup environment at large—venture funding and valuations skyrocketed in 2021, even as the coronavirus pandemic continued to surge and supply chain issues rattled the economy. The result was a startup ecosystem that continued to build on its momentum, with no shortage of companies raising private capital at billion-dollar-plus unicorn valuations.
In order to gauge the local startup scene and who's leading the proverbial pack, we asked more than 30 leading L.A.-based investors for their take on the hottest firms in the region. They responded with more than two dozen venture-backed companies; three startups, in particular, rose above the rest as repeat nominees, while we've organized the rest by their amount of capital raised as of January, according to data from PitchBook. (We also asked VCs not to pick any of their own portfolio companies, and vetted the list to ensure they stuck to that rule.)
Without further ado, here are the 26 L.A. startups that VCs have their eyes on in 2022.
Whatnot was the name most often on the minds of L.A. venture investors—understandably, given its prolific fundraising year. Whatnot raised some $220 million across three separate funding rounds in 2021, on the way to a $1.5 billion valuation.
The Marina del Rey-based livestream shopping platform was founded by former GOAT product manager Logan Head and ex-Googler Grant LaFontaine. The startup made its name by providing a live auction platform for buying and selling collectables like rare Pokémon cards, and has since expanded into sports memorabilia, sneakers and apparel.
Boulevard's backers include Santa Monica-based early-stage VC firm Bonfire Ventures, which focuses on B2B software startups. The Downtown-based company fits nicely within that thesis; Boulevard builds booking and payment software for salons and spas. The firm has worked with prominent brands such as Toni & Guy and HeyDay.
GOAT launched in 2015 as a marketplace to help sneakerheads authenticate used Air Jordans and other collectible shoes. It has since grown at a prolific rate, expanding into apparel and accessories and exceeding $2 billion in merchandise sales in 2020. The startup sealed a $195 million funding round last summer that more than doubled its valuation, to $3.7 billion.
Nielsen competitor VideoAmp gathers data on who's watching what across streaming services, traditional TV and social apps like YouTube. The company positions itself as an alternative to so-called "legacy" systems like Nielsen, which it says are "fragmented, riddled with complexity and inaccurate." In addition to venture funding, its total funding figure includes more than $165 million in debt financing.
Seizing on the NFT craze, Mythical Games is building a platform that powers the growing realm of "play-to-earn games." Backed by NBA legend Michael Jordan and Andreessen Horowitz, the Sherman Oaks-based startup's partners include game publishers Abstraction, Creative Mobile and CCG Lab.
FloQast founder Michael Whitmire says he got a "no" from more than 100 investors in the process of raising a seed round. Today, the accounting software company is considered a unicorn.
Nacelle produces docuseries, books, comedy albums and podcasts. The media company's efforts include the Netflix travel series "Down To Earth with Zac Efron."
A platform for virtual concerts, Wave has hosted performances by artists including Justin Bieber, Tinashe and The Weeknd. The company says it has raised $66 million to date from the likes of Warner Music and Tencent.
Sherman Oaks-based Papaya looks to make it easier to pay "any" bill—from hospital bills to parking tickets—via its mobile app.
Based in Marina del Rey, LeaseLock says it's on a mission to eliminate security deposits for apartment renters.
Emotive sells text message-focused marketing tools to ecommerce firms like underwear brand Parade and men's grooming company Beardbrand.
Based in Long Beach, Dray says its mission is to "modernize the logistics and trucking industry." Its partners include Danish shipping company Maersk and toy maker Mattel.
Coco makes small pink robots on wheels (you may have seen them around town) that deliver food via a remote pilot. Its investors include Y Combinator and Silicon Valley Bank.
HiveWatch develops physical security software. Its investors include former Twitter executive Dick Costollo and NBA star Steph Curry's Penny Jar Capital.
Whatnot competitor Popshop is betting that live-shopping is the future of ecommerce. The West Hollywood-based firm focuses on collectables such as trading cards and anime merchandise.
Founded by former SpaceX engineer Karan Talati, First Resonance runs a software platform for makers of electric cars and aerospace technology. Its clients include Santa Cruz-based air taxi company Joby Aviation and Alameda-based rocket company Astra.
Founded by Crowdstrike and Microsoft alums, Open Raven aims to protect user data. The cybersecurity firm's investors include Kleiner Perkins and Upfront Ventures.
When an actor faces the camera and speaks directly to the audience, it's known as "breaking the fourth wall." Named after the trope, Venice-based Fourthwall offers a website builder that's designed for content creators.
The Non Fungible Token Company creates NFTs for musicians under the name Unblocked. Its investors include Jay Z's Marcy Venture Partners and Shawn Mendez.
Backed by Mayo Clinic Ventures, Safe Health develops telehealth software and offers tools for enterprises to launch their own health care apps.
Intro's app lets you book video calls with experts—from celebrity stylists, to astrologists, to investors.
With the tagline "Land the package, not the plane," DASH Systems is a Hawthorne-based shipping company that builds hardware and software for automated airdrops.
With a focus on sustainability, Ettitude is a direct-to-consumer brand that sells bedding, bathroom textiles and sleepwear.
Along similar lines as Unblocked, Afterparty creates NFTs for artists and content creators such as Clay Perry and Tropix.
Heart to Heart is an audio-focused dating app that "lets you listen to the story behind the pictures in a profile." Precursor Ventures led the pre-seed funding round.
Frigg makes hair and beauty products that contain cannabinoids such as CBD. The Valley Village-based company raised an undisclosed seed round in August.
Harri is dot.LA's senior finance reporter. She previously worked for Gizmodo, Fast Company, VentureBeat and Flipboard. Find her on Twitter and send tips on L.A. startups and venture capital to [email protected]
© dot.LA All rights reserved