On February 28, 2022, S&P Global completed its merger with IHS Markit, the next step in delivering data, technology and expertise that accelerates progress.
As great as last year was for our company, in many ways 2022 is shaping up to be even better. In February, we closed a transformative merger with IHS Markit. We believe combining our two companies will create substantial long-term value for all our stakeholders.
The S&P Global Foundation is about much more than philanthropy—we are about making a difference by finding and developing essential connections between the knowledge- and skill-driven work of S&P Global and the needs of society.
The COVID-19 lockdown in Shanghai is impacting China's energy and commodity markets, along with the country's overall economic growth. The lockdown also has the potential to extend global supply chain disruptions.
Mandatory climate disclosures are now on the horizon in the U.S. after the Securities and Exchange Commission unveiled a long-anticipated climate disclosure rulemaking proposal. The U.S. joins a growing number of countries requiring companies to report their climate-related risk.
With a full scale invasion of Ukraine now under way, stock markets, global trade, energy markets, and commodities markets are all registering the impact of a new geo-political reality.
As the war in Ukraine continues, many are turning to electric vehicles as a solution to price surges amid the rise in sanctions against Russia. This push for EVs, however, comes with its own set of challenges as metal prices skyrocket and battery supply chains face pressure from the invasion.
Published: April 11, 2022
Updated: April 26, 2022
Subscribe to start every business day with our analyses of the most pressing developments affecting markets today, alongside a curated selection of our latest and most important insights on the global economy.
Accelerating electric vehicle adoption rates are smashing into surging lithium-ion battery costs and weakening supply chains, which is prompting calls for enhanced domestic mineral production and research in alternative battery storage technologies, experts said during an Earth Day US Energy Association media call.
US light-duty EV sales totaled 608,000 in 2021, more than double 2020's 301,900 and almost 4% of total new vehicle sales, according to S&P Global Commodity Insights data. S&P Global expects EV sales to approach 849,000 in 2022 en route to topping 4.7 million by 2030.
Meanwhile, lithium carbonate was assessed at $75,000/mt on April 22 at Singapore, almost 12 times the $6,350/mt assessed at the beginning of 2021. Much of the world's lithium is produced in China, with which the US has had contentious trade relations in recent years.
Anne Robba, S&P Global Commodity Insights manager and research analyst for future energy, noted that while lithium prices have soared to record highs, they represent just part of the cost of EVs.
"While it is true that battery packs are the leading cost component of EVs, at around 30% of overall cost, key battery metals only account for approximately 12% of battery pack costs," Robba said in an April 22 email. "Therefore, price surges in lithium, nickel, cobalt, and other key battery metals have only lifted EV prices by 5-8%."
In contrast, Robba noted that EV battery cell prices have fallen 760% since 2015 to less than $150/KWh in 2021.
"[S&P Global] forecasts prices will experience a slight increase in 2022 before resuming their decline and falling below $100/kWh by 2026, making EV vehicles more broadly cost-competitive with [internal combustion engine] vehicles without subsidy," Robba said.
Supply constraints
However, Scott Aaronson, Edison Electric Institute senior vice president for security and preparedness, said another issue is constraints in available quantities.
Investment in Lithium-Ion Batteries Could Deliver 5.9 TWh Capacity by 2030
The transition to electromobility plays a leading role in reducing carbon emissions and achieving carbon neutrality. The long-term switch from internal combustion engines to plug-in electric vehicles is boosting demand for traction lithium-ion batteries.
Almost Half of Tesla EVs Produced in Q1 Had No Nickel, Cobalt in Battery
Electric vehicle maker Tesla equipped almost half of the EVs manufactured in the first quarter of 2022 with nickel and cobalt-free lithium iron phosphate, or LFP, batteries, it said in its first-quarter results presentation April 20.
Graphite Emissions Fuel Search for Solutions Along EV Supply Chain
Production of graphite, the largest component of electric vehicle batteries by volume, relies on petroleum coke and other fossil fuels, creating a dilemma for carmakers pushing EVs as a zero-carbon transportation solution.
Listen: Battery Pack Costs on the Rise: Will It Slow Down EV Adoption?

Ontario 'All In' To Develop Full EV, Battery Supply Chains: Minister
Ontario aims to propel its leadership in automotive electrification by continuing to attract key industrial investments that will establish a complete electric vehicle and battery supply chain in the region, according to a government official.
The S&P GSCI Electric Vehicle Metals seeks to measure the performance of the tradeable metals used in the production of an electric vehicle (EV) and is designed to have the flexibility to respond to changes in EV technology and the adoption of new metals futures contracts.
Automakers do not have enough metal to meet demand for electric vehicles, even as customers facing high fuel prices clamor for more.

Battery Metals Mining, Recycling Both Critical To Energy Transition: Panel
With the sheer volume of battery terawatt-hours required to transition the world away from fossil fuels, it is going to require both increased mining and advances in battery recycling to meet demand, a panel of battery industry researchers and executives said March 29.
A complete transition to electric transportation will require on the order of 10 TWh of battery production in the next decade, according to Vineet Mehta, director of battery technology and system architecture at Tesla. Taken a step further, to think about getting the entire planet off of fossil fuel consumption, including primary energy consumption, will put total demand close to 350 TWh, Mehta said while moderating a panel at Cambridge EnerTech's International Battery Seminar and Exhibit.

U.S. gasoline prices surging above $4.00/gal on average are making EVs—already coming off a record market share of 6% in the fourth quarter of 2021—even more financially attractive to drive, say vehicle trade groups.
Charging an EV costs one-fifth to one-half of refueling a comparable gasoline internal combustion engine (ICE), on a per-mile basis, in the U.S., said the Zero Emission Transportation Association (ZETA) in a report released in early March.
Comparing models of popular SUVs, pickups, and sedans, ZETA said that the EVs are significantly less costly to drive in each category. The prices below are based on a retail gasoline price of $4.32/gal (as of 10 March) and a $0.14/KWh for power (December 2021).
"This month's Consumer Price Index shows once again that gas prices are surging, which has been exacerbated by Putin's invasion of Ukraine. American families are losing money at the pump to a commodity that is increasingly unpredictable and unaffordable in an already-expensive pandemic year," said Joe Britton, executive director of ZETA. "Our analysis shows that American consumers don't have to choose between driving their car or saving money. Electric vehicles are affordable now."
However, ICE engines still offer substantial advantages on driving range.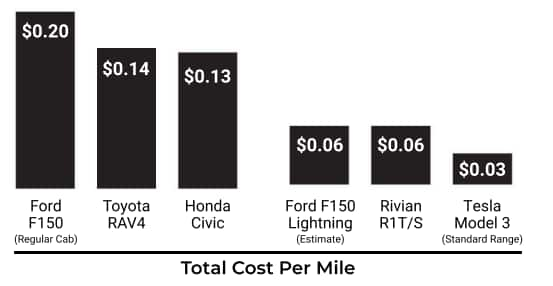 How will consumers react?
Volatile gasoline prices do make EVs more attractive to consumers, commented Mike Fiske, research and analysis director at S&P Global Mobility. "The larger question is whether consumers view this spike in cost as being temporary or not," he said in an email to Net-Zero Business Daily by S&P Global Commodity Insights.
China's Lithium Consumption to Slow in April as Pandemic Curbs Disrupt Demand
China's lithium consumption is expected to slow down slightly in April from March amid high raw material prices and pandemic-led disruptions, industry sources said March 14.
Electric Vehicle Shortage Will Drive Carmakers To Invest – Volta Energy CEO
Automakers and battery manufacturers will not be able to keep up with the pace of electric vehicle demand at first, but that will only encourage legacy automakers to double down on making necessary investments in new technology.
EV Take-Up To Fall Short Of Forecasts On Russia-Ukraine Crisis: Miner Sibanye-Stillwater
Battery electric vehicle penetration rates will probably be lower than most forecast in the medium to long term due to consequences of the Russia-Ukraine crisis, Neal Froneman, CEO of South African-based platinum group metals and gold producer Sibanye-Stillwater said March 17.
Nickel Price Spike During Russia-Ukraine Conflict Could Drive Up EV Costs
Nickel prices jumped after Russia, a top global nickel producer, invaded Ukraine on Feb. 24, threatening to drive up electric vehicle battery costs that were already under pressure from rising raw material prices.
From weekly one-minute observations about industry trends to more in-depth discussions on automotive disruption, innovation and the strategic implications, our podcasts will give you the latest insights straight from our experts.
As the world has begun to focus on new technology to aid in the global energy transition, electric vehicles (EV) are becoming more a part of everyday life. S&P Dow Jones Indices (S&P DJI) has collaborated with S&P Global Commodity Insights (SPGCI) to launch the S&P GSCI Electric Vehicle Metals, which seeks to track the metal commodities used in the production of electric vehicles.
The index was created in response to client demand for investable thematic strategies that offer exposure to the global energy transition. The energy transition represents both a significant challenge and opportunity to financial market participants, and nowhere is that dichotomy more obvious than in commodities markets.
The S&P GSCI Electric Vehicle Metals is a commodities futures-based index that is designed to reflect the performance of the tradeable metals used in the production of an EV. The expertise of SPGCI is leveraged for data to help determine the index constituents and production weights to ensure the index broadly reflects the relative metal usage in a representative EV. An important characteristic of the index is the flexibility to reweight, add or remove constituents at regular intervals to ensure that it can adapt to changes in EV technology and the launch and adoption of new metals futures contracts.
Constituents in the index are weighted based on their current metal usage in an average EV multiplied by the average per unit price for the metal, thereby representing the relative cost (or value) of the metal components in an EV. Minimum contract trading and liquidity rules for constituent inclusion, similar in design to the eligibility criteria used for the broad S&P GSCI, are also applied. Additionally, battery metal constituents, as defined by SPGCI but including cobalt and lithium, are capped based on contract trading volume and liquidity requirements to ensure that the index is both replicable and investable.

Solar Cells Anchor Growing Industrial Silver Demand, While EVs Offer Opportunity: Analyst
The photovoltaic (PV) cell market for solar energy panels continued to anchor a 9% year-over-year increase in global silver demand for industrial applications in 2021, and electric vehicles present an opportunity for further gains over the coming years, according to Metals Focus Managing Director Philip Newman.
General Motors To Launch Canada's First Commercial Electric Vehicle Hub In Ontario
General Motors will launch Canada's first full-scale commercial electric vehicle manufacturing hub at its CAMI automotive assembly plant in Ingersoll, Ontario, with production expected to begin by the end of the year, the company said April 4.
TalkingPoints: S&P GSCI Electric Vehicle Metals – Commodities Go Electric
As the world has begun to focus on new technology to aid in the global energy transition, electric vehicles are becoming more a part of everyday life.
Need For 14,000 Public EV Charging Points To Be Installed EU-Wide Weekly: ACEA
The member states of the European Union must step up investments into electric vehicle infrastructure, with up to 14,000 public EV charging points needing to be installed EU-wide every week to meet future demand, the European Automobile Manufacturers' Association, or ACEA, said March 28.
Energy transitions present major strategic decision-making challenges for today's business leaders. Gain a comprehensive view of where the move to sustainable energy is and where it's headed with S&P Global Commodity Insights Energy Transition.