Delhi News: A massive fire broke out at Delhi's Azad market area Saturday, gutting three buildings and collapsing one of them, news agency PTI reported. At another fire in the Anand Parbat area, 6 fire-fighters were among nine people who were injured while trying to douse a blaze which started at an electrical components manufacturing factory.
The Delhi government on Friday unveiled a detailed blueprint of its five-year plan to generate 20 lakh jobs under the 'Rozgar Budget.' A high-level meeting was convened by Chief Minister Arvind Kejriwal and his deputy Manish Sisodia to expedite the implementation of these schemes and set specific targets and timelines for different departments to achieve the goal.
The India Meteorological Department (IMD) has issued an orange alert for a "severe heatwave" in the national capital on Saturday.  Heatwave conditions will continue with the maximum temperature likely to remain at 40 degrees Celsius or above till April 13.  Yesterday, the city recorded 41.6 degrees Celsius, seven notches above normal and the highest so far this year.
The Delhi BJP on Saturday alleged that party spokesperson Tajinderpal Singh Bagga's mother and sister were being harassed by the Punjab Police, which has booked him for attacking Delhi Chief Minister Arvind Kejriwal over his remarks on 'The Kashmir Files' film.
No immediate reaction was available from the police in Punjab or the Aam Aadmi Party (AAP), which is power in the state. Delhi BJP president Adesh Gupta and party MP Parvesh Verma in a press conference accused the ruling AAP in Punjab of indulging in "vendetta" against its political opponents.
Verma alleged that Punjab Police was tapping phones of Delhi BJP leaders. He also played a video which purported to show Kejriwal saying during Punjab polls that if police came under his control he would make it arrest 3-4 people speaking against him, to silence the rest. This proved our fears that Kejriwal will misuse the police for political reasons true, Verma charged. (PTI)
The India Metrological Department's (IMD) Twitter handle was hacked on Saturday evening and efforts were on to restore it, officials said. It was not immediately clear who was behind the hacking.
The hacker after getting into the account posted and pinned a tweet regarding an NFT trading event. The tweeted posted in a thread has tagged several thousand accounts about an hour ago. (Read more)
The maximum temperature in Delhi soared to reach 42.4 degrees Celsius on Saturday, the highest for the first 15 days of April in the past 72 years. It surpassed the previous record of 41.6 degrees Celsius for April 1-15, registered on April 8 this year, and April 12 and 13 in 2010, at the Safdarjung weather observatory, from 1951 to 2022.
🗞️ Subscribe Now: Get Express Premium to access the best Election reporting and analysis 🗞️
The maximum temperature on Saturday was also eight degrees above normal for this time of the year and the highest recorded in the month in the past four years. The highest maximum temperature in April 2021 was 42.2 degrees, while it was 40.1 degrees in 2020, 42.1 degrees in 2019, and 42 degrees in 2018. (Read more)
A day after the death of a 21-year-old student in Canada's Toronto, his family in Ghaziabad continues to look for answers. Kartik Vasudev, a resident of Ghaziabad, was shot dead outside a subway station in Toronto on Thursday evening. Speaking to The Indian Express, his family said they were unaware about the motive of the crime and were desperately seeking the government's help for clarity and justice.
"We are as clueless about Kartik's death as we were on the first day. I have received no phone call from the Embassy or Canadian authorities. He was the only one killed and there seems to be silence around it. I feel everyone wants to let the issue die down but I will knock every possible door for justice," said his father Jitesh Vasudev.
Kartik was pursuing global management from Seneca University and was in his first year. Shortly after joining college, he found a job at a restaurant in the Downtown area. (Read more)
Amid the increasing adoption of electric vehicles, the Delhi Traffic Police has written to the Environment Department, suggesting that adequate number of charging stations be installed in the capital to avoid traffic snarls due to breakdown of 'uncharged' EVs.
The suggestion came in response to the government's draft policy mandating all aggregators and delivery service providers to induct electric vehicles while procuring a new fleet. It said the absence of charging points could lead to traffic jams in case "electric vehicles breakdown due to low charge".
"It is, therefore, suggested that an adequate number of charging points may be installed at various locations to ensure smooth movement of traffic in the interest of electric vehicle users," Deputy Commissioner of Police (Traffic) S K Singh wrote to the Environment Department.
A senior official in the Environment Department said a committee will be constituted soon to examine the suggestions and comments received from various departments and the general public on the draft policy. The government had issued the draft policy in the Delhi Gazette on February 8, 2022, inviting suggestions and comments from the public within 60 days. (PTI)
The Delhi University (DU) has asked to the College of Art to start the admission process and has informed the city government that the college will not be de-affiliated from the varsity, vice-chancellor Yogesh Singh said. He said the issues between the 12 DU colleges funded by city government and the AAP dispensation had arisen due to procedural lapses, and they are being sorted.
The office of L-G had earlier given an in principle approval to the merger of College of Art (CoA) with the state-run Ambedkar University subject to its de-affiliation from DU. However, Executive Council of the university, which is its highest decision making body, refused to de-affiliate the college.
"The proposal was by the college. DU has a system and it has not given an NOC for de-affiliation ever. The university's Executive Council has decided to not give an NOC. We have conveyed our decision to the Delhi government," Singh told PTI in an interview earlier this week. "We have written to them to start the admission process. We have told them that we are not de-affiliating you. We will follow what the EC has decided. Students are suffering because of the delay," he said. (PTI)
Bollywood actress Sonam Kapoor and her husband Anand Ahuja's New Delhi residence was allegedly robbed of Rs 2.41 crore, the police said on Saturday. Their house is located near Amrita Shergill Marg, and a complaint was lodged on February 23.
According to the police, Anand's father Harish Ahuja and other family members reported the matter at the Tughlaq Road police station.
Amrutha Guguloth, DCP (New Delhi) said, "We received a complaint from the family alleging that cash and jewellery worth Rs 2.4 crore was stolen from their house. They noticed it on February 11 but lodged a formal police complaint on February 23. Our staff immediately registered an FIR on the same day. Teams have been formed, and an examination of the evidence is underway. Further investigation is in process." (Read more)
With a day to go for the beginning of the administration of precaution doses of Covid-19 vaccines to all beneficiaries aged above 18 years, doctors at private vaccination centres in Delhi on Saturday said they are all prepared for the exercise and that the third shot will provide "stronger protection" against the coronavirus.
The Union health ministry announced on Friday that the precaution dose will be available for all aged above 18 years at private vaccination centres from April 10. Doctors and administrators at several leading private hospitals in Delhi asserted that they are prepared for the exercise starting from Sunday. (PTI)
The university placement cell (UPC) of Jamia Millia Islamia has entered into a partnership with an online digital learning platform to give students essential technical skills.
The platform is called IBM Skills Build-CSRBOX Foundation.
"The foundation is a skill-building and learning digital platform where students can get industry-relevant skills and courses. The collaboration will facilitate the delivery of free digital learning to university students through acquisition of essential skills like technical skills, professional skills and job readiness skills," Jamia said in a statement.
Delhi on Friday recorded 146 fresh Covid-19 cases and one death due to the viral disease, while the positivity rate stood at 1.39 per cent, according to health department data. With this, the national capital's caseload has increased to 18,65,942 and the death toll has climbed to 26,156, the latest bulletin stated. A total of 10,488 Covid-19 tests were conducted in the city the previous day, it said. There has been an uptick in Covid-19 cases in Delhi over the last three days.
The Delhi government on Friday unveiled a detailed blueprint of its five-year plan to generate 20 lakh jobs under the 'Rozgar Budget' and set up department-wise targets to implement the AAP dispensation's ambitious scheme. Industrial areas, retail markets, startup policy and shopping festivals were major contributors to achieving the objective of providing 20 lakh jobs.
A high-level meeting was convened by Chief Minister Arvind Kejriwal and his deputy Manish Sisodia on Friday to expedite the implementation of these schemes and set specific targets and timelines for different departments to achieve the goal. In the meeting, Kejriwal said 20 lakh jobs in five years is perhaps a first-of-its-kind experiment in the budget-making exercise.
Six fire-fighters were among nine people who were injured while trying to douse a blaze at an electrical components manufacturing factory in the Anand Parbat area here on Saturday morning, officials said. It is suspected that the fire broke out after an LPG cylinder exploded around 5:15 am, they said. (With PTI)


The India Meteorological Department (IMD) has issued an orange alert for a "severe heatwave" in the national capital on Saturday. The maximum temperature at the Safdarjung Observatory may touch the 42-degree mark on Saturday, the IMD said. Heatwave conditions will continue till April 13.
A 'severe heatwave' scorched Delhi on Friday with the city recording a maximum temperature of 41.6 degrees Celsius, seven notches above normal and the highest so far this year, according to the India Meteorological Department (IMD).
The weather stations at Mungeshpur, Najafgarh, Pitampura and Sports Complex recorded maximum temperatures of 43 degrees Celsius, 43.3 degrees Celsius, 43.4 degrees Celsius, and 43.9 degrees Celsius, respectively.
Observing that Khalid Saifi had connectivity with other accused persons, and their cumulative role must be seen to comprehend the entire conspiracy as stated in the chargesheet, a Delhi court rejected the bail application of the United Against Hate founder in a UAPA case in connection with the Northeast Delhi riots.
Additional Sessions Judge Amitabh Rawat said that Saifi also figures in the list of those who made a flurry of calls to other accused following the riots.
Saifi's lawyer, senior advocate Rebecca John, told the court that he has been falsely implicated in this case, and the entire case of the prosecution is unsubstantiated without any evidence to link the accused with the riots.
A massive fire broke out in three buildings in Delhi's Azad market area on Saturday morning, officials said. One of the buildings has collapsed, they added. According to the fire officials, after information regarding the blaze came in, 20 fire tenders were rushed to the spot, and the fire was brought under control around 7.30 am. (With PTI)


Congress leader Sachin Pilot met Rahul Gandhi and Priyanka Gandhi Vadra here on Friday amid speculation over organisational changes and ongoing deliberations on the party's revival. Sources said they discussed the political situation in Rajasthan, ways to strengthen the party in the state, organisational elections, upcoming polls in Gujarat and Himachal Pradesh and the revival of the party going forward.
Sources close to Pilot said he is keen on remaining active and involved in strengthening the party in Rajasthan, and reiterated that he is willing to take on any role the party asks him to. The meeting took place at Rahul Gandhi's residence and Priyanka Gandhi was also present, the sources said.
There has been speculations over organisational changes after the drubbing the Congress received in the assembly polls in five states. Earlier this week, Congress President Sonia Gandhi had called for unity at all levels of the organisation, while noting that the road ahead for the party is more challenging than ever and the spirit of resilience of party workers is under severe test. (PTI)
The Centre on Friday raised a red flag to four states and the Union Territory of Delhi that reported a marginal increase in the Covid test positivity rate —directing them to maintain a strict watch and take pre-emptive action in any areas of concern to control any emerging spread of infection.
🗞️ Subscribe Now: Get Express Premium to access the best Election reporting and analysis 🗞️
Union Health Secretary Rajesh Bhushan communicated to Kerala, Maharashtra, Haryana, Mizoram and Delhi to continue monitoring the spread of infection and undertake required steps for prompt and effective management of Covid-19. (Read more)
The Enforcement Directorate (ED) on Friday carried out searches at nine locations across Delhi and Gurgaon in connection with its money laundering probe into the alleged manipulation of the National Stock Exchange when Chitra Ramkrishna was at the helm of affairs at the bourse.
Sources said the raids were carried out at premises associated with some NSE brokers, including OPG Securities. (Read more)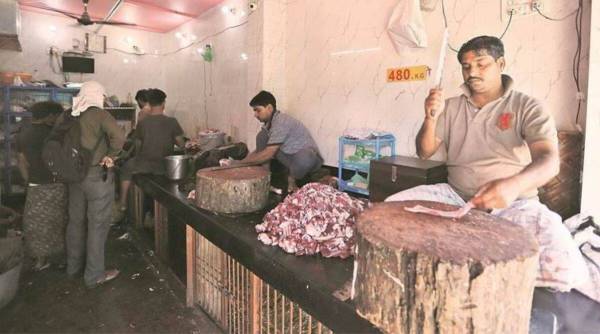 In the past, during Navratri, outfits under Samiti's banner have taken to streets to 'request' shop owners to close their meat shops. (Representational)
The Delhi Minorities Commission (DMC) Thursday issued show cause notices to the mayors and commissioners of the three municipal corporations seeking an explanation on the "order" to shut meat shops during Navratri.
On Monday, South MCD mayor Mukesh Suryan had sent a letter to the civic body commissioner with instructions that all meat shops should be shut. East MCD mayor Shyam Sundar Agarwal had also made a similar appeal.
The Delhi Police Licensing Unit has issued an arms licence to a man who was allegedly shot at during the Northeast Delhi riots two years ago.
Police said the man, Rohit Shukla, who is also a witness in another case, was receiving threats from "unknown parties" and applied for a licence. After due verification from local police and specialised units, police provided the man with one.