U.S. equity markets climbed to fresh record highs this past week amid a pull-back in interest rates and inflation expectations as the global growth outlook has been tempered by ongoing COVID issues abroad. The 10-year Treasury yield pulled back 8 basis points despite the largest annual rise in producer prices in nearly 10 years amid indications that Congress' appetite for additional multi-trillion-dollar government spending plans may be waning.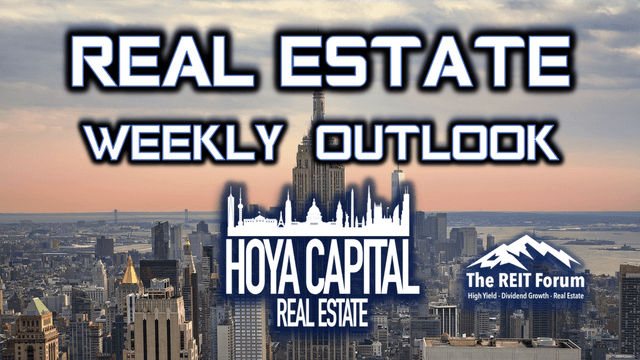 (Hoya Capital Real Estate, Co-Produced with Colorado Wealth Management)
Climbing to fresh record-highs, the S&P 500 (SPY) gained another 2.7% on the week while the tech-heavy Nasdaq 100 (QQQ) surged nearly 4%. However, the previously red-hot Small-Cap 600 (SLY) and Mid-Cap 400 (MDY) lagged for the fourth straight week. Real estate equities were mixed amid a busy week of news flow – and one dividend cut – as the broad-based Equity REIT Index (VNQ) gained 0.2% with 10 of 19 property sectors in positive territory while the Mortgage REIT Index (REM) finished off by 0.2%.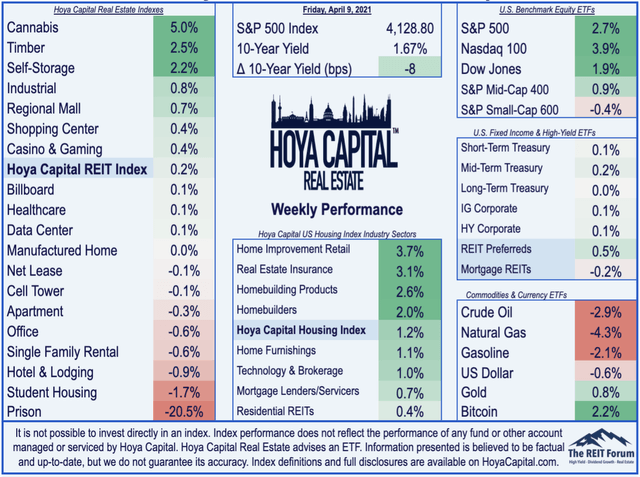 This week's record-highs came on a fairly slow week of news flow and earnings reports, resulting in the lightest week of trading volumes so far this year. Ten of the eleven GICS equity sectors finished higher on the week, led to the upside by the Technology (XLK) sector while Energy (XLE) stocks were hit by the intensifying COVID struggles in many European and Asian countries. Homebuilders and the broader Hoya Capital Housing Index delivered another strong week, boosted by a retreat in mortgage rates and a Zillow (Z) report detailing the potentially enduring positive effects on the U.S. housing market and the ongoing "unrelenting demand" across national real estate markets.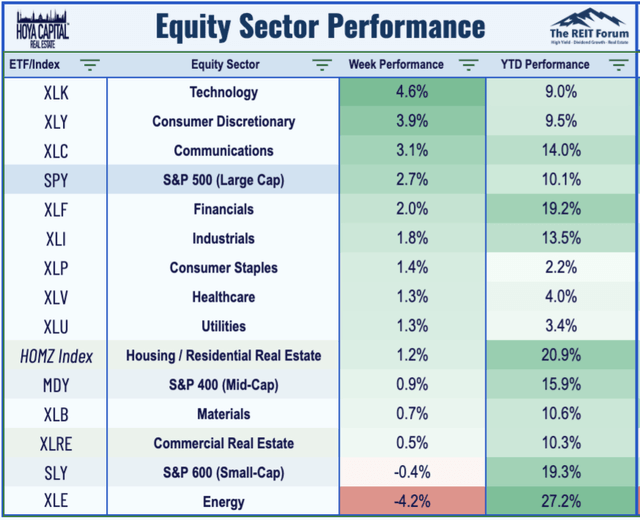 Below, we recap the most important macroeconomic data points over this past week affecting the residential and commercial real estate marketplace.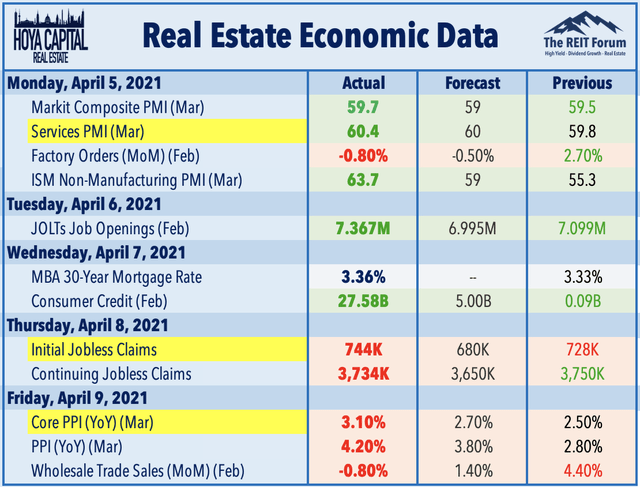 The BLS reported that U.S. producer prices increased more than expected in March as the combination of economic reopenings, ongoing supply chain issues, and the year-over-year "base effects" resulted in the largest annual gain in nearly 10 years on the headline PPI Index. Core PPI rose by 0.9% last month, which pushed its year-over-year rise to 3.5%. Longer-term inflation expectations have trended sideways over the last month as market participants are split on whether the expected jump in inflation metrics throughout this Spring will be sustained or are merely transitory effects of COVID-related disruptions to supply chains and work schedules.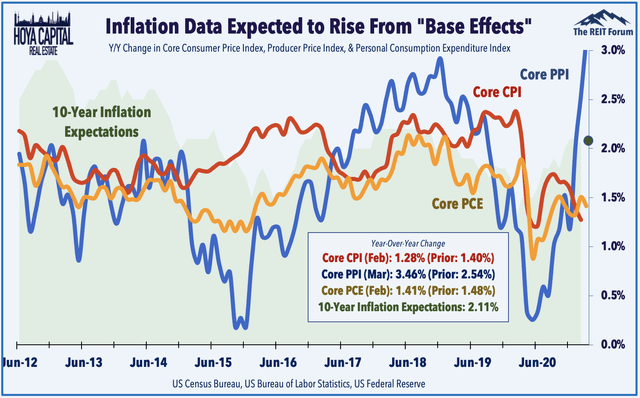 Joining a wave of other real estate SPACs this year fueled by several quarters of robust capital raising activity, billboard REIT Lamar Advertising (LAMR) announced that it formed a subsidiary – Lamar Partnering Corporation (LPCXU), a special purpose acquisition company ("SPAC") that has filed to raise $300M in an IPO. LPC plans to search for a partner at the intersection of the out-of-home advertising, technology, and communications sectors. LAMR joins Simon Property (SPG), which sponsored a $300m SPAC targeting innovative businesses that operate in the "Live, Work, Play, Stay, Shop" ecosystem and lab space REIT Alexandria Real Estate Equities (ARE), which sponsored a $250m SPAC targeting an ag-tech and climate innovation company will be listed on the NYSE under ticker symbol "AACE."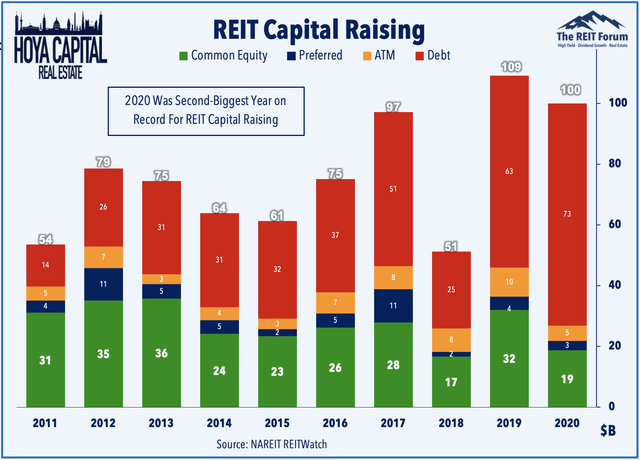 Malls: Bankrupt mall REIT CBL Properties (OTCPK:CBLAQ) dipped nearly 8% this week after reporting Q4 results. Roughly consistent with expectations and the results of other lower-productivity mall REITs, CBL reported that its FFO per share plunged 61.4% for full-year 2020 while its same-store NOI dipped 21.5%. Portfolio occupancy at the end of Q4 was 87.5%, representing a 70-basis point improvement from the sequential quarter, but a 370-basis point decline compared with 91.2% as of the prior year-end. While higher-productive mall REITs like Simon Property and Macerich (MAC) see stabilization in 2021, essentially all of the other smaller mall REITs face a potentially long and uncertain road to recovery.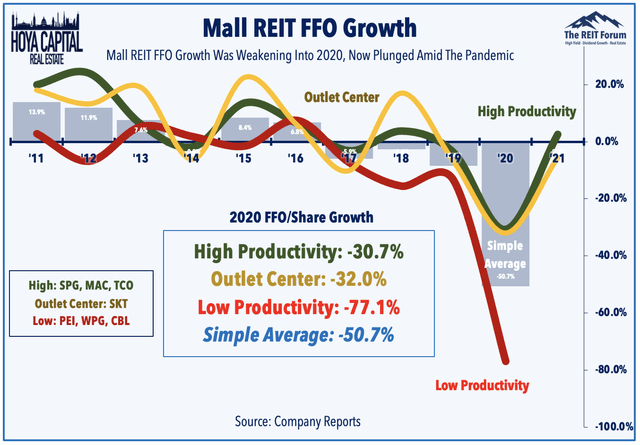 Prisons: GEO Group (GEO) plunged more than 25% this past week after its board immediately suspended the company's quarterly dividend payments and stated that it will "undertake an evaluation of GEO's structure as a REIT." We warned in Prison REITs: The End Is Near that GEO "likely isn't far behind" fellow private prison owner CoreCivic (CXW), which made a similar announcement last year before ultimately deciding to transition from a REIT into a traditional c-corporation. We also warned that private prisons were facing a potential existential crisis if Democrats swept the 2020 Elections, who have pledged to abolish the Federal use of private prisons.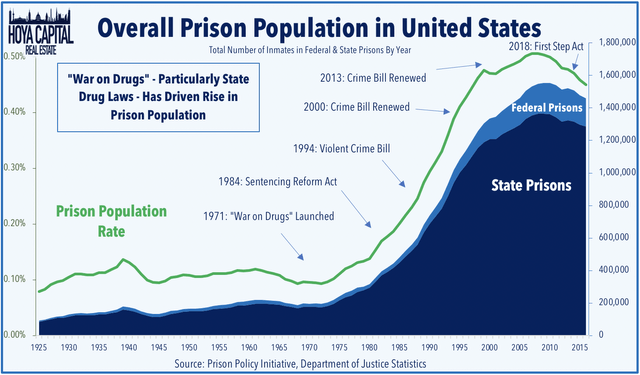 Healthcare: Senior housing REIT New Senior (SNR) rose nearly 5% this past week after it provided a business update in which it noted that monthly occupancy trends have improved significantly over the past several months and that 81% of its residents have been vaccinated, leading to a 91% in new COVID cases. Welltower (WELL) rose more than 2% on the week after it provided a business update in which it reported similar vaccination and COVID trends while noting that it expects Q1 normalized FFO per share to come in at the top end of its 71 cents-76 cents guidance range.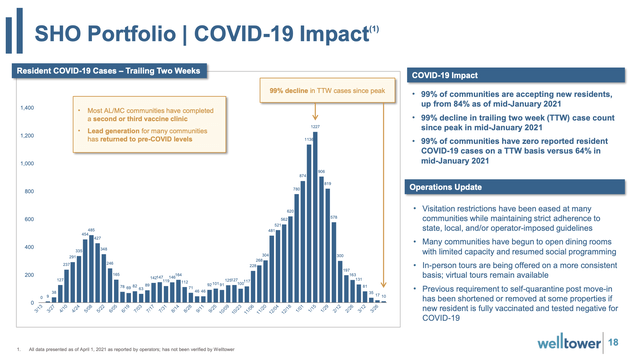 Net Lease: Netstreit (NTST) jumped nearly 11% this past week after providing a business update in which it raised its external growth target for full-year 2021. After completing $89.5M in Q1, NTST now expects net acquisition activity of $360M for the full year, up from its previous $320M estimate. Fellow net lease REIT W.P. Carey (WPC) announced a $119M sale-leaseback of three hypermarket properties located in Southern and Central France. Fueled by recovering valuations and ample access to capital, several net lease REITs are back to doing what they do best as the vaccine-driven rebound "reopened the external growth spigot" for the well-capitalized REITs at an impressive pace.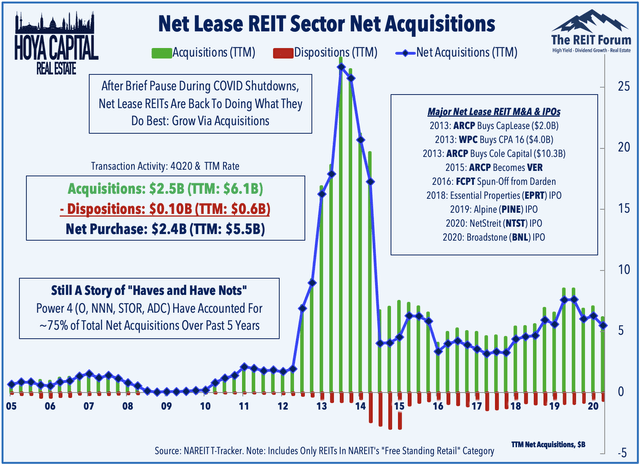 Apartments: Data provider Yardi Matrix reported that the national average apartment rent rose to $1,407 in March, up 0.6% from its year-earlier level. Rents at the end of Q1 2021 were up 0.8 percent from their levels at the end of 2020, which was one of the strongest first quarters in several years. Out of 134 markets surveyed, 114 had flat or positive YOY rent growth. Outside of the troubled coastal metros that dominate the headlines and drive the investment narrative, national apartment markets – along with the broader U.S. housing industry – have been remarkably resilient throughout the pandemic. Per the Zillow (Z) ZORI Rent Index, the median U.S. apartment market has actually seen an acceleration in rent growth over the last year to 3.9% led by Sunbelt markets and coastal suburban markets.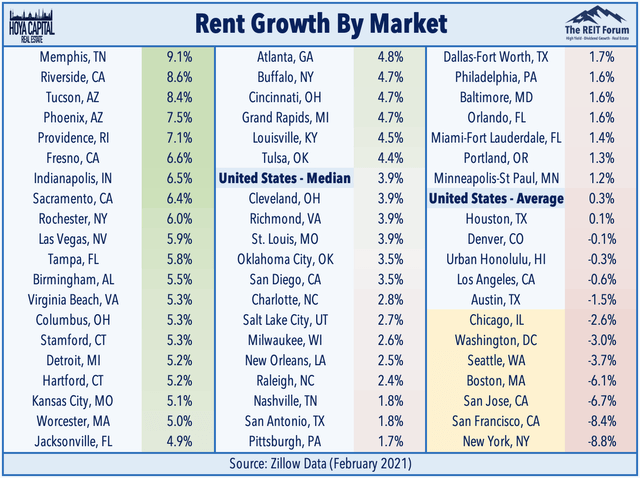 Cell Tower: While not directly affecting the cell tower REITs – American Tower (AMT) and Crown Castle (CCI) – technology blog The Verge reported that two satellites from OneWeb and SpaceX's (SPACE) Starlink triggered a red alert from the U.S. Space Force's 18th Space Control Squadron of a potential collision, forcing SpaceX to manually steer the satellite to avoid the collision. Cell Tower REITs face potential disruption (perhaps on the positive side) from a growing network of Low Earth Orbit ("LEO") satellites. SpaceX has about 1,370 Starlink satellites in orbit already, while OneWeb has launched 146 satellites so far, and critics have raised concern that a space collision could set off a cascading wave of space destruction.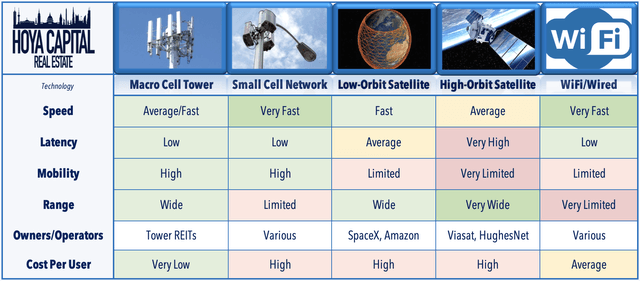 Finally, this week we published Cannabis REITs: Still Flying High. The emerging Cannabis REIT sector has been the best-performing property sector since the start of 2019. The momentum has continued this year for Innovative Industrial (IIPR), small-cap Power REIT (PW), and the newly-listed cannabis REIT AFC Gamma (AFCG) after New York became the 15th state to fully legalize recreational marijuana. An additional 20 states allow medical usage, collectively covering 70% of the population. The ongoing federal prohibition – and the resulting limit on access to traditional banking – has forced cultivators and retailers to turn to alternative sources for capital, including cannabis REITs.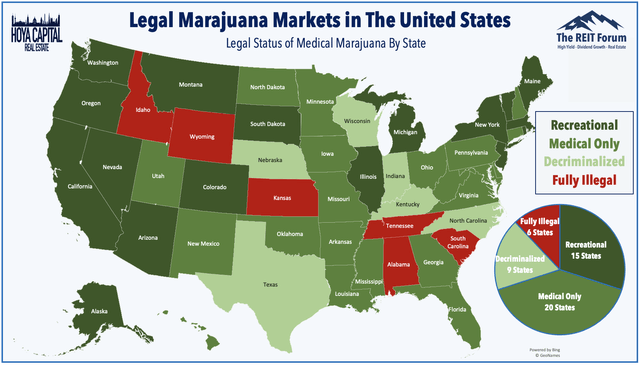 Mortgage REITs were mixed this week as commercial mREITs climbed 0.5% while residential mREITs declined by -0.5%. Colony Credit Real Estate (CLNC) finished lower by about 3% on the week after announcing that it reached an agreement with Colony Capital (CLNY) to end Colony Capital's external management agreement with the mortgage REIT. The transaction was consistent with CLNC's previously announced strategic alternative review process and is consistent with Colony Capital's digital focus. Colony Capital will continue to own 36.1% of the outstanding shares of CLNC, following the closing of this transaction. Colony Credit expects to start operating under a new name soon after the closing of the internalization transaction.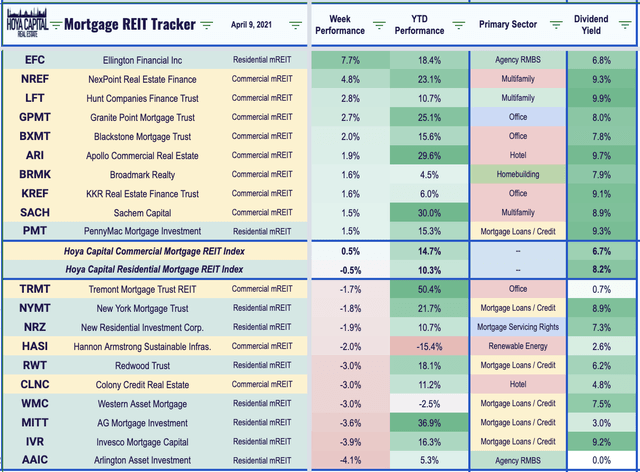 The wave of dividend boosts continued this week in the mortgage REIT sector. Ellington Financial (EFC) led the way to the upside with gains of nearly 8% after it boosted its dividend by 40% to $0.14/share – up from its prior dividend of $0.10 – but still a cent below its pre-pandemic distribution rate of $0.15. Helped by 17 mREIT dividend increases this year, the average residential mREIT is currently paying a forward dividend yield of 8.2% while the average commercial mREIT is yielding 6.7%.
The REIT Preferred ETF (PFFR) ended the week higher by 0.5% and is now higher by 3.2% thus far in 2021. As previously announced, SITE Centers (SITC.PK) redeemed all $150m of its 6.25% Series K Preferred Stock (SITC.PK) with the proceeds of its secondary offering of 15 million common shares. While we've seen more redemptions than new issues this year, KKR Real Estate (KREF) announced this week the launch of a 6.50% Series A Cumulative Redeemable Preferred Stock at $25.00 per share which will trade on the NYSE under the ticker symbol "KREF PRA." The average REIT Preferred stock pays a dividend yield of 6.29% and trades at a slight discount to par value.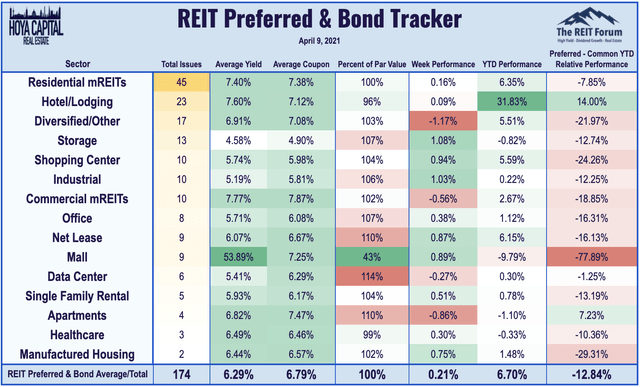 Over in the bond markets, CoreCivic (CXW) announced and priced a $450m offering of 8.25% senior unsecured notes due 2026, using the proceeds to redeem all $250M of outstanding 5.00% senior notes due 2022. Elsewhere, Uniti Group (UNIT) announced and priced a $570M offering of 4.75% senior secured notes due 2028 which will be used to fund the redemption of its 6.00% senior secured notes due 2023. REITs have used lower interest rates over the past year to extend their debt maturities to over 7 years, on average, and to lower their average interest rate on long-term debt from 3.67% to 3.55% over the last quarter – the lowest level on record.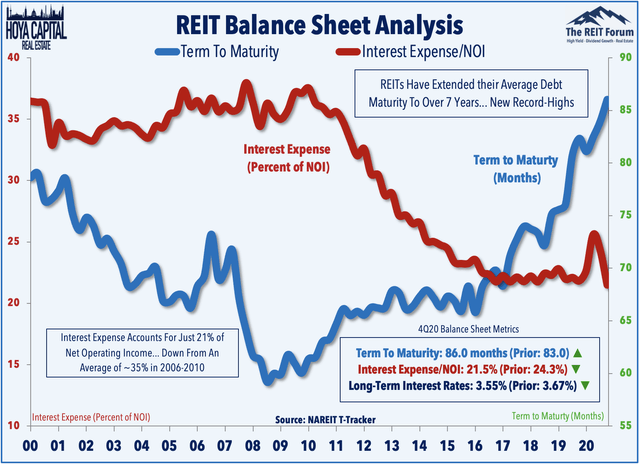 Through fourteen weeks of 2021, Equity REITs are higher by 10.4% while Mortgage REITs have gained 11.7%. This compares with the 10.1% advance on the S&P 500 and the 15.9% gain on the S&P Mid-Cap 400. Seventeen of the nineteen REIT sectors are in positive territory for the year, while on the residential side, all eight sectors in the Hoya Capital Housing Index are higher. At 1.67%, the 10-year Treasury yield has climbed 75 basis points since the start of the year and is 115 basis points above its all-time closing low of 0.52% last August, but 158 basis points below its 2018-peak of 3.25%.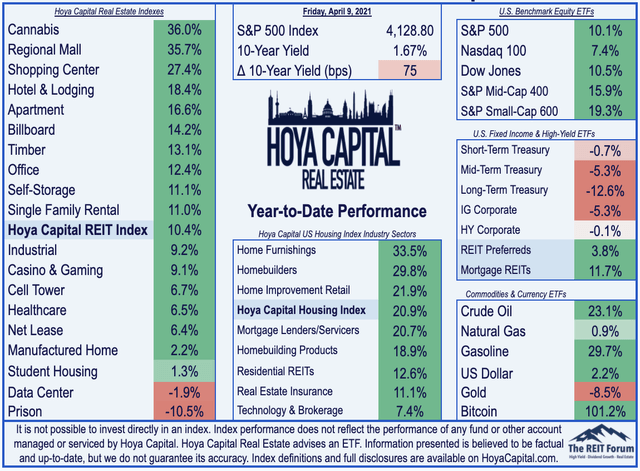 The FTSE NAREIT All Equity REIT Index ended 2020 with total returns of -5.12%. Despite the rough 2020, REITs have been one of the best-performing asset classes since the start of 2010, producing average annual total returns during this time of 11.1%. Interestingly, 2020 was the first year since 2009 that REITs finished in the bottom four of the ten major asset classes, and despite the pullback, still lag only the Small-Cap, Mid-Cap, and Large-Cap equities over this time. REITs have produced far superior total returns to Bonds (AGG), TIPS (TIP), Commodities (DJP), and International (EFA) stocks.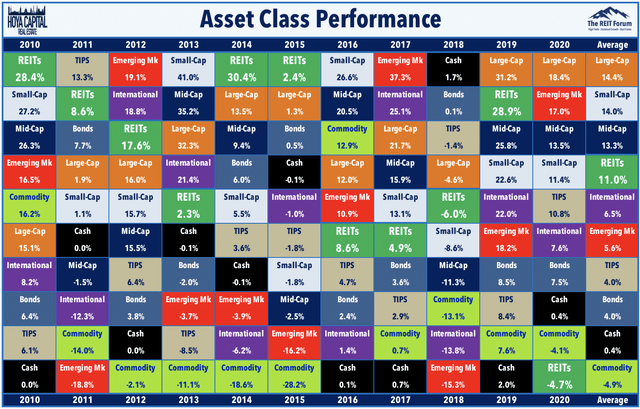 We have a jam-packed week of economic data in the week ahead. On Tuesday, we'll see Consumer Price Index data for March which is expected to mirror the jump seen in producer prices this past week. On Thursday, we'll see Retail Sales data for March should see a sizable boost from stimulus checks which arrived in bank accounts in the middle of last month. Also on Thursday, we'll see NAHB Homebuilder Sentiment data which is expected to remain near historically high levels. Finally, on Friday, we'll see Building Permits and Housing Starts as well as Consumer Sentiment data.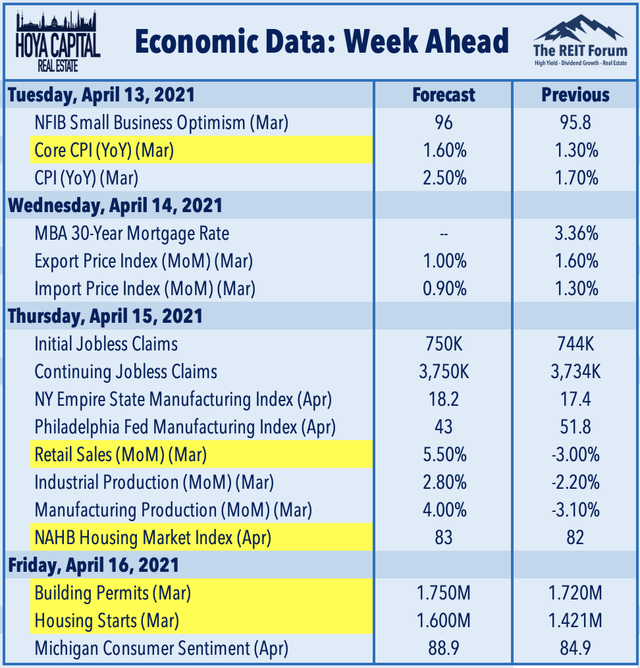 For an in-depth analysis of all real estate sectors, be sure to check out all of our quarterly reports: Apartments, Homebuilders, Manufactured Housing, Student Housing, Single-Family Rentals, Cell Towers, Casinos, Industrial, Data Center, Malls, Healthcare, Net Lease, Shopping Centers, Hotels, Billboards, Office, Storage, Timber, Prisons, Cannabis, Real Estate Crowdfunding, High-Yield ETFs & CEFs, REIT Preferreds.
Disclosure: Hoya Capital Real Estate advises an Exchange-Traded Fund listed on the NYSE. In addition to any long positions listed below, Hoya Capital is long all components in the Hoya Capital Housing 100 Index. Index definitions and a complete list of holdings are available on our website.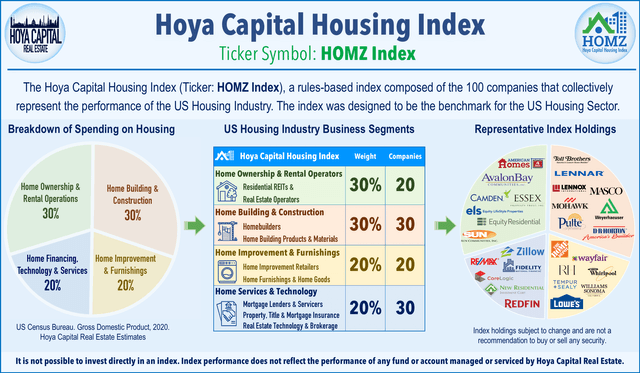 This article was written by
High Yield • Dividend Growth • Income. Visit www.HoyaCapital.com for more information and important disclosures. Hoya Capital Research is an affiliate of Hoya Capital Real Estate ("Hoya Capital"), a research-focused Registered Investment Advisor headquartered in Rowayton, Connecticut. Founded with a mission to make real estate more accessible to all investors, Hoya Capital specializes in managing institutional and individual portfolios of publicly traded real estate securities, focused on delivering sustainable income, diversification, and attractive total returns. 
Collaborating with ETF Monkey, Retired Investor, Gen Alpha, Alex Mansour, The Sunday Investor, and Philip Eric Jones for Marketplace service – Hoya Capital Income Builder. 
Nothing on this site nor any commentary published by Hoya Capital is intended to be investment, tax, or legal advice or an offer to buy or sell securities. Neither the information, nor any opinion, contained on this website or any published commentary by Hoya Capital constitutes a solicitation or offer by Hoya Capital or its affiliates to buy or sell any securities, nor shall any such security be offered or sold to any person in any jurisdiction in which such offer, solicitation, purchase, or sale would be unlawful under the securities laws of such jurisdiction. No representation or warranty is made as to the efficacy of any particular strategy or fund, or the actual returns that may be achieved.
Investing involves risk. Loss of principal is possible. Investments in real estate companies and/or housing industry companies involve unique risks. Real estate companies, including REITs, may have limited financial resources, may trade less frequently and in limited volume, and may be more volatile than other securities. Many factors may affect real estate values, including the availability of mortgages and changes in interest rates. Real estate companies are also subject to heavy cash flow dependency, defaults by borrowers, and self-liquidation. The housing industry can be significantly affected by the real estate markets. Compared to large-cap companies, small and mid-capitalizations companies may be less stable and their securities may be more volatile and less liquid.
There are also unique risks associated with investing in ETFs. Shares may be bought and sold in the secondary market at market prices and are not individually redeemed from the Fund. Brokerage commissions will reduce returns. Although it is expected that the market price of an ETF will approximate the Fund's NAV, there may be times when the market price of an ETF is more than the NAV intra-day (premium) or less than the NAV intra-day (discount) due to supply and demand of the ETF or during periods of market volatility.
Before acquiring the shares of an ETF, it is your responsibility to read the fund's prospectus. The prospectus to the ETFs in which Hoya Capital advises are available at www.HoyaETFs.com.
An investor cannot invest directly in an index. Index performance does not reflect the deduction of any fees, expenses, or taxes. The information and any index data presented do not reflect the performance of any fund or other strategies or accounts managed or serviced by Hoya Capital, and there is no guarantee that investors will experience the type of performance reflected.
Data quoted represents past performance, which is no guarantee of future results. The views and opinions in all published commentary are as of the date of publication and are subject to change without notice. There is no guarantee that any historical trend illustrated will be repeated in the future, and there is no way to predict precisely when such a trend will begin.
Commentary and data are believed to be accurate, but we cannot guarantee it's accuracy. We do not represent that it is a complete analysis of all factors and risks. It should not be relied upon as the sole source of suitability for any investment. Please consult with your investment, tax, or legal adviser regarding your individual circumstances before investing.
Decisions based on information contained on this site or any commentary published by Hoya Capital are the sole responsibility of the reader, and in exchange for using this website or reading any published commentary, the reader agrees to hold Hoya Capital harmless against any claims for damages arising from any decisions that the reader makes based on such information.
Hoya Capital has no business relationship with any company discussed/mentioned. Hoya Capital never receives compensation from any company discussed/mentioned. Hoya Capital, its affiliates, and/or its clients and/or its employees may hold positions in securities or funds discussed on this website and our published commentary. A complete list of holdings is available and updated at www.HoyaCapital.com.
Disclosure: I am/we are long HOMZ, AMT, ARE, AVB, BXMT, DRE, DLR, EFG, EQIX, FB, FR, MAR, MGP, NLY, NHI, NNN, PLD, REG, ROIC, SBRA, SPG, SRC, STOR, STWD, PSA, EXR, AMH, CUBE, ELS, MAA, UDR, SUI, CPT, NVR, EQR, INVH, ESS, PEAK, LEN, DHI, HST, AIV, MDC, ACC, PHM, TPH, MTH, WELL. I wrote this article myself, and it expresses my own opinions. I am not receiving compensation for it (other than from Seeking Alpha). I have no business relationship with any company whose stock is mentioned in this article.
Additional disclosure: Hoya Capital Real Estate ("Hoya Capital") is an SEC-registered investment advisory firm that provides investment management services to ETFs, individuals, and institutions, focusing on portfolio and index management of publicly traded securities in the residential and commercial real estate industries. A complete discussion of important disclosures is available on our website (www.HoyaCapital.com) and on Hoya Capital's Seeking Alpha Profile Page.
It is not possible to invest directly in an index. Index performance cited in this commentary does not reflect the performance of any fund or other account managed or serviced by Hoya Capital Real Estate. Nothing on this site nor any published commentary by Hoya Capital is intended to be investment, tax, or legal advice or an offer to buy or sell securities. Information presented is believed to be factual and up-to-date, but we do not guarantee its accuracy and should not be considered a complete discussion of all factors and risks. Data quoted represents past performance, which is no guarantee of future results. Investing involves risk. Loss of principal is possible. Investments in companies involved in the real estate and housing industries involve unique risks, as do investments in ETFs, mutual funds, and other securities. Please consult with your investment, tax, or legal adviser regarding your individual circumstances before investing. Hoya Capital, its affiliate, and/or its clients and/or its employees may hold positions in securities or funds discussed on this website and our published commentary. A complete list of holdings is available and updated at www.HoyaCapital.com.
REIT Terms Defined:
REIT (Real Estate Investment Trust): A company that owns, operates, or finances income-generating real estate. REITs must distribute 90% of taxable income to qualify. REITs are exempt from corporate income taxes, but distributions are generally taxed at ordinary (not qualified) income rates.
FFO (Funds From Operations): A standardized measure of REIT operating performance, used in place of Earnings. FFO adds back depreciation to Net Income and adjusts for gains/losses on property sales.
AFFO (Adjusted Funds From Operations): A non-standardized measure of recurring/normalized FFO after deducting capital improvement funding and adjusting for "straight line" rents.
NOI (Net Operating Income): Typically reported on a "same-store" basis, NOI is a calculation used to analyze the property-level profitability of real estate portfolios. NOI equals all revenue from the property minus property expenses.
NAV (Net Asset Value): An estimated market value of a REIT's net assets based on estimated private market valuations of similar assets, assuming immediate liquidity and zero transaction costs.